Waterfall Pools
Are you looking to take your pool to the next level?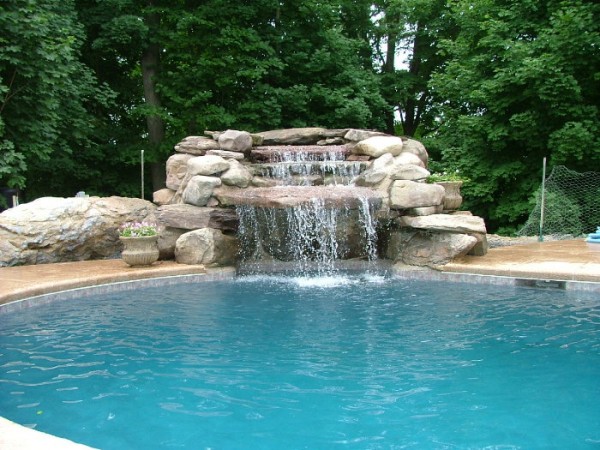 There is nothing quite like the feelings you get when you are near a waterfall. It is something that many people travel long distances to experience, hike mountains to see and feel, and even trudge through the water to swim through them. There is just something special about seeing nature in motion. To help bring the excitement and relaxation to you, Grandview offers a variety of waterfall pool designs to help recreate one of nature's wonders just feet from your back door.
Having your own waterfall swimming pool adds sight, sound, and excitement to a backyard and can be a variety of shapes, sizes, and styles to fit into any environment. Freeform rock or boulder waterfalls are a mainstay in backyards with a natural or tropical theme as the sight and sound of water cascading down layers of rock further enhances the look and feel of a tropical retreat or natural oasis. Many homeowners enjoy the dramatic presence of a giant, multi-tiered grotto rock waterfall; others prefer the look of multiple, smaller rock waterfalls. Sheer descent waterfalls or sheetfalls are another waterfall pool design in which a translucent, glass-like sheet of falling water is projected from a raised wall on the swimming pool. Sheer descent waterfalls are best for adding an elegant and serene focal point to formal and modern pool designs.
Once your have your own waterfall pool in your own backyard, you will wonder how you ever lived without one. Not only will it give your pool that unique, wow factor, but it will give you a great way to cool off and relax next to the soft sounds of the water falling back down to the pool on a beautiful, sunny day.
If you would like more information on one of our waterfall pools, please don't hesitate to contact us today. If you are interested in a different type of pool, you can browse our other in ground pool design option to see if something else can be customized to fit your needs