Masonry
The most trusted masonry company in NJ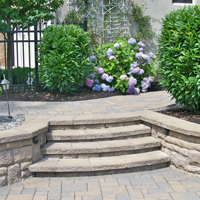 While masonry is an art as old as man himself, a caveman would be awestruck by the range of masonry services Grandview offers today.
Our New Jersey masonry professionals deliver a full spectrum of masonry services as both primary and complementary elements to your landscape design.
Looking for a way to enjoy your backyard throughout the entire year?
Over the last 20 years, we've designed and built hundreds of custom outdoor kitchens, barbecues, patios, pool areas and outdoor living rooms that are great for summer recreation. Features like fireplaces and hot tubs will make your patio a hot spot for relaxation during the winter months as well.
Our masonry services also include full-service concrete and paving for both commercial and residential properties, along with the construction of retaining walls.
Check out our portfolio for more information about our masonry projects and contact us today to get your 100% free design consultation.