Landscape Lighting
---
Illuminating NJ one home and business at a time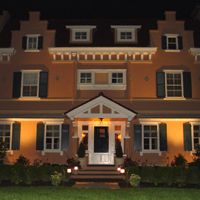 Move your home, yard or office building out of the dark and give it the attention it deserves with our premium landscape lighting services. Landscape lighting can tastefully accent the features of your property.
From homes and office buildings, to gardens, walkways and patios, Grandview's landscape lighting designers will build the perfect outdoor lighting solution to compliment all areas of your property.
All our landscape lighting installation is efficiently installed and cost effective, so you can feel confident that you're getting a top-quality product at a competitive price.
We also offer holiday lighting and decorating services, which are a hassle-free way to show off your seasonal spirit and make your Christmas decor the envy of the neighborhood.
Browse our additional landscape lighting options below and contact us today to get your 100% free landscape lighting consultation.
Additional Benefits of Landscape Lighting
• Makes pathways easier to navigate
• Utilizes minimum power consumption
• Deters burglary and theft
• Benefits the elderly and vision impaired
• Increases home value
Types of Lighting and Lighting Technology Available
• Spotlights
• Path & Area Lights
• Flood & Well Lights
• Specialty Lights – Underwater, Decks, Steps.
• LED
• Halogen
• Fiber Optic Lighting