Black Bottom Pools
Do you want a pool that truly makes a statement?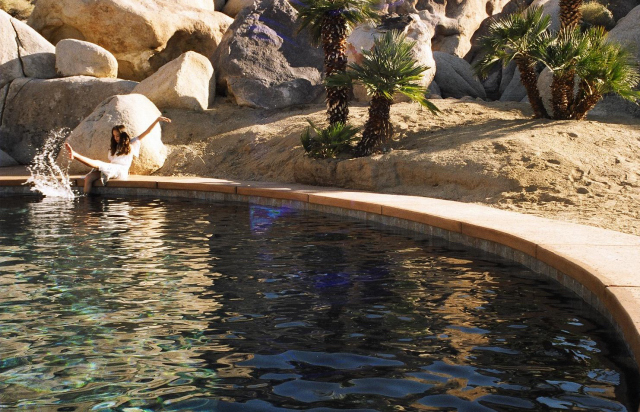 Sometimes you want a pool that makes a bold statement. You may desire a pool that screams and whispers at your visitors about its surroundings. You may even want a pool that seems to blend in and stand out at the very same time. Grandview can solve all of these problems with a black bottom pool design specifically for your landscape. These are not your run of the mill in ground pool designs. A black bottom pools is a truly spectacular edition to any landscape that is sure to draw intrigue and amazement from all who see it.
A black bottom pool design is when the pool surface is finished with a dark gray or black material, which can consist of plaster, pebble aggregate, tile, fiberglass, or vinyl. When filled with water, the pool's dark interior creates a reflective mirror-like surface that mimics the surrounding environment—from the landscape to the architecture to the sky. Black bottom pool designs can be used to create an organic, pond-like pool in natural settings or a striking focal point in modern locales. Because black bottom pools reflect their surroundings, they can be utilized in any landscape. In addition, the dark interior color absorbs sunlight which can help warm the water a few degrees.
If you are looking for a pool that is unique and expressive as you are, a black bottom pool may be the perfect fit for you and your family. Contact us today to see what we can do to design a custom pool that makes all your relaxation dreams come true.
If you are truly interested in a different variety of pool, we have you covered there as well. Check out our in ground pool designs to find a starting point that we can customize specifically for you and your family.