Grading and Excavation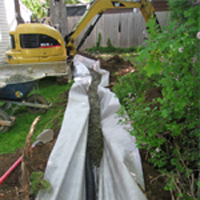 Whether you're in need of grading and leveling services or are excavating land for a construction project, Grandview has over 20 years of experience and the expertise to make your project a success.
Grading and excavating may be required for a number of reasons: installation of a drainage system, backyard ponds, lawn replacement, inground pool construction, patio construction and others.
Land grading and excavating are both delicate processes that require professional expertise. If proper care is not taken, soil compaction can occur, affecting future performance of plant life and potentially creating drainage and other issues that can be costly to fix.
For more details about our grading and excavating services, contact us today at (973) 601-1114.