Outdoor Kitchens and Fire Pits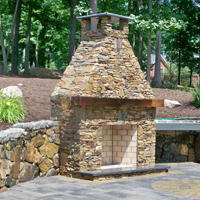 Transform your yard into a warm and sociable area of your home by installing one of our unique outdoor kitchens or fire pits.
At Grandview Outdoor, we've been installing custom outdoor kitchens and fire pits for more than 20 years. Our highly skilled architects will utilize your space to create the ambiance you desire.
Whether you're trying to make your home the perfect destination for summer BBQs or create an intimate outdoor dining experience for your family, Grandview Outdoor offers the best outdoor kitchen and fire pit installation in central and northern New Jersey. Our outdoor kitchen designs also integrate a wide variety of accessories, such as grills, custom bars, food preparation areas and outdoor refrigerators.
We can install a fire pit in only a few days with our custom kitchens taking a little longer.
Browse our portfolio and call us today at (973) 601-1114 to schedule a consultation.