Walkway Design & Installation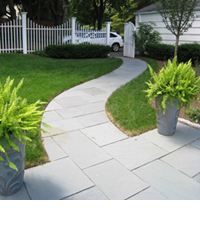 At Grandview, we integrate high-quality paving stones into a wide variety of our landscape designs, including walkways. Paving stones are known for their durability, and if they get stained by an old car, you can just pop the old one out and put a new one in.
We work with our clients to select a paving stone design that matches their need by weighing aesthetics, function, weather, budget and other relevant criteria to identify the most suitable match.
When it comes to natural stones, we work with Bluestone, Fieldstone and Travertine to accentuate the natural feel of your landscape design. We also utilize top paving stone suppliers including: Cambridge, Techo Bloc, CST, Rinox Pavers, Natural Stone Pavers, Bluestone, Flag Stone, Field Stone, Thermal Stone, Paver Driveways and more.
Browse our portfolio for examples of our previous paving work and call us today at (973) 601-1114 to schedule your free no-obligation consultation today.